Oregon's Finest Travel Center
Truck 'N Travel is located north of Eugene in Coburg at Exit 199 off I-5. We are a full service TA TravelCenter and pride ourselves on being "Oregon's Finest Travel Center". Truck 'N Travel services include a TA Travel Store, Country Pride Restaurant, Express Lane Truck Shop, Shell station, motel, convenience store, ATM, and laundry facilities.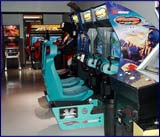 Truck and Travel's services are designed to meet the needs of the traveler and the truck driver.
There are phones available throughout Truck 'N Travel, allowing you to keep in touch with family and friends. If you are a driver, this makes it easy to find out about loads or to keep in touch with your employer. We have additional phones available inside the Country Pride Restaurant at many of the tables.
You will find laundry facilities next to the Theater Room, so you can watch your favorite T.V. shows while doing your laundry. We have three washers and four dryers available for your use.
Relax and enjoy a free shower with your fuel purchase. Six clean, private showers are available with hot, steaming water. A refundable key deposit is required.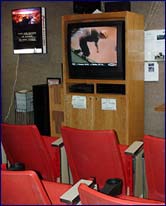 Sit back and relax in our 16-seat Theater Room and watch all your favorite shows. We have a 36-inch TV with surround sound for your enjoyment. We have all the cable channels including Showtime. Next to the Theater Room is our enclosed arcade room. It contains pinball and video games for you to play.

Other services include: an ATM machine, pre-paid phone cards, RV dump site and scales. In the Theater Room, we have a TV displaying available D.A.T. freight loads.

As a member of the CFN network, we can provide you with competitive cardlock fuel pricing at more than 3000 locations nationwide and in Canada. Please send us an e-mail if you have questions, would like to make comments or need further information.

Get started now by downloading our Credit Application.